Surely I have given you a big enough taste of the
San Francisco Renegade Craft Fair
 in the last few days. I am confident that if you live in the Bay Area, I will see you there unless you have a good excuse. I don't have to start calling you out by name, do I? Kristen? Alison? Just kidding. I love you guys. Here is my very last attempt and then it is up to you what you will do this weekend...
Danni sells adorable jewelry, hair pins, and lots of other sweet things. Her
blog
is absolute eye candy. The poor dear is sick with a sinus infection right now, so I hope she can still make it. Send her some love.
Gorgeous laser cut wood jewelry, adorable pillows and bags. There is something for everyone. Check them out.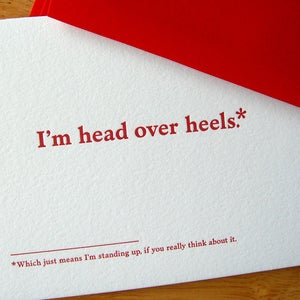 I love a card that can make me laugh out loud. Tom Foolery is full of them. If you can't read it, the note on the bottom of the card above is "Which just means I'm standing up, if you really think about it." Yeah. I just laughed out loud.
I love the charm of Rag Trader's jewelry made with antique molds and vintage findings. I absolutely love this spinner necklace. I'd have no use for it though, because I know it's "yes". :)
Her pottery is just gorgeous. I love the colors and simple, elegant shapes. These mini bottles are my favorite. I'll take 5, please.
Filled with art, notecards, banners, light boxes, and all sorts of little treats, Treat Zone is inspired by the every day overlooked things and uses vintage and repurposed materials to create their goodies.
Okay. PLEASE tell me you are convinced now. I know that did the trick. See you there! And don't forget to check the blog next week for a ("a" meaning "one") post on the actual
San Francisco Renegade Craft Fair ex
perience.
And now we will return to our regularly scheduled (entirely sporadic) programming.